Welcome to OKC Rescue Centre!!
Welcome to Ocean Kennels and Cattery rescue centre!.
Here at the OKC rescue centre we take in any petz that you no longer want or simply cant look after any more. We then keep them in our care and look after them daily until they can be found great new homes.
We take petz for all game versions just be sure to check before you adopt!
The OKC rescue centre has been up and running for about 6 years now and in that time we have looked after and
re-homed well over 5000 petz!
Check out our adoptions pages to see if there are any petz there that you feel you could give a new home, also check out the successes page and read stories about petz that have been re-homed and how they are getting on.
Have a look at the what goes on page and take a look at what happens to the rescue petz when they first arrive in the centre.
---
2016 Adoption count.
16
Dog of the month

Name: Bobby
Date rescued?: March 12th 2012
Breed: Dali
Gender: Male
Likes Dogz?: No
Likes Catz?: Yes
Mute: No
Petz: 4
Bio: Bobby is a little sweetie, he loves to play with you and loves to look out for his kitty friends. Fetch is a must with this kiddo and so is lots of exercise! He's super hyper and bouncy. Bobby was pose trained in his last home however that was over a year ago now so it could take a little time for him to remember it all.


---

Cat of the month

Name: Colin
Date rescued?: 1st January 2011
Gender: Male
Breed: Cali, Scottish fold mix
Likes Dogz?: Yes
Likes Catz?: Yes
Mute: No
Petz: 5
Bio: Colin is a very outgoing boy, it wont take him long at all to settle into his new home. Colin came to us with a few of his other family memebers and he settle in very well. He loves to play with the tennis ball and will roll it round and pounce on it all day long if you let him, not to mention he pulls the cutest little faces when he is playing with it!.


---
Updates
April 30th 2015
- I have seriously found my motivation this time round!
Petz are being evaluated and put up for adoption TONIGHT!
---
About OKC
OKC rescue centre was founded in January 2010 by Loupin.
I decided to start OKC up because I noticed a huge amount of petz were being put up for adoption and then deleted because they were to 'ugly' to be adopted. I wanted to make a safe place for these petz to go whilst the found their forever homes even if that means that stay here for 1+ years.
Every pet that comes into the centre has it's own story and is treated the same as any other pet in my personal game.
Since opening in 2010 OKC has become well known in the PC and we have been able to re-home over 6000 petz.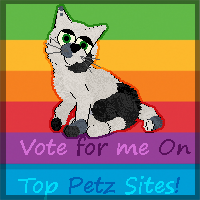 ---
---
Last updated: July 17th 2016